Here are Bank NIfty Price Action Setups for 14 October 2020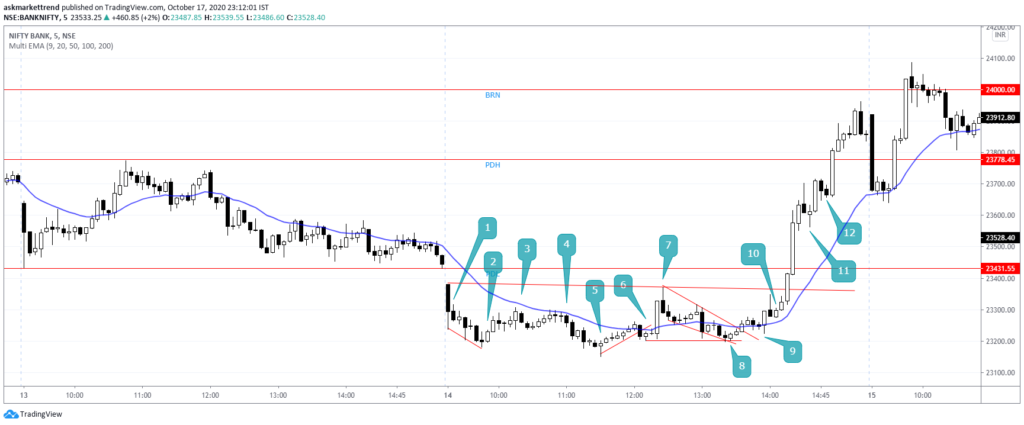 Candle 1 is an inside candle after breaking PDL. Scalp short.
Micro wedge at a new low. Scalp long.
Second pull back to EMA in a down move. Short.
This is also a second pullback to EMA. But in a range near EMA and last 2 candles were doji. Maybe a tight range. This short should be avoided.
Pin candle at the low of the day after the two-legged move. Long for both scalp and swing. It is also reversing a range. The day is looking like a trading range day.
Failed L1. Micro trend line failed breakout.6 bull candles in a row. Early bears trapped. Long.
Failed breakout in a trading range. Strong bear candle near day high. Short. Two down leg expected.
Bull inside candle. Second ema gap candle in the range market. 3 pushes down. Double bottom bull flag. Scalp Long.
Breakout pullback from a wedge. Strong bullish candle. Near 2 PM. Sharp bullish move expected. The right shoulder of a possible head and shoulder bull flag. Long.
Failed failure of the breakout. Reversal candle failure. Bears trapped. Long.
First pullback after the breakout in a strong move. Long. One more up leg is expected.
Iii. Bull flag and a triangle pattern in the smaller time frame. More continuation. Long.