Here are Bank Nifty Price Action Setups for 15 October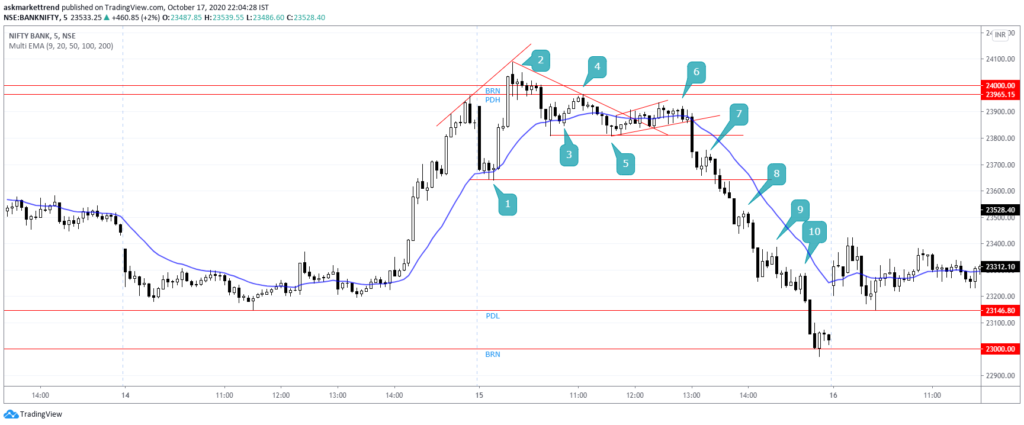 Second pull back to the EMA.2HW. The first candle of the day was climatic and a big candle and last 3 candles did not close below EMA. So this is a high probability long.
Second attempt to reverse from PDH, BRN and TDH. High probability short for both scalp and swing. It also made a triangle pattern flat and failed which confirms the swing move.
Bull outside candle. A second pullback to EMA. Long scalp.
Micro trend line failed breakout and lower high and a possible right shoulder of a head and shoulder pattern right at PDH and just below BRN. Scalp short.
Double bottom bull flag. Scalp long.
Pull back from a 3 push pattern. Strong bear candle and closed just above the channel. This might break the bear flag. Scalp short.
Small inside candle. Breakout pullback from a range and bear flag. Downtrend continuation expected. Though it is near the low of the day it is a Good scalp short. Because the trend is strong so one more leg down is expected.
It is another inside bear candle. There has not been a trend line break or trend channel line overshoot. So more down move is expected. Scalp short.
Io bear candle. Pull back. Bulls trapped in an outside candle. Good scalp short.
Another pullback short to the trend line which is not shown. Traders should be cautious here because just below there is low of yesterday and a BRN. It also made a micro trend channel line overshoot. Climatic move. Traders should exit in the bull candle after this.