Here are Bank Nifty and Nifty future and option setups occurred on 19 October 2020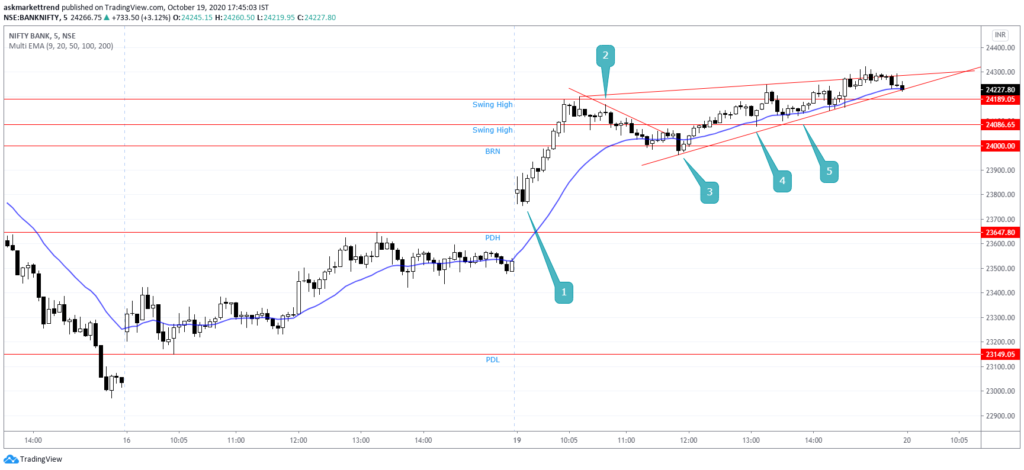 Strong bull inside candle. 3rd candle of the day. So 15-minute candle closed as a strong bullish candle. The market opened with a gap up and reluctant to fill the gap. Also broke out from a trading range of yesterday. Long. Swing and scalp.
Second attempt to reverse at a resistance level. At least a 2 legged move to test the EMA is expected after a strong bullish move such as this.
The first touch of the EMA is a Doji (6 candles before). Doji near EMA should be strictly avoided. This one is an EMA gap candle and strong bullish inside candle. Also, this is an h4 and test of BRN and a small trend line breakout and test of low. Long scalp.
Strong Bull reversal candle at EMA. This is a failed break of a channel made up of last 14 candles. This is also a two-legged pull back to EMA. Long Scalp.
It is a two-legged pull back to EMA but largely overlapped by last several candles. Should be avoided. Now the market is clearly a spike and bull channel day And market is most likely to stay in the range for the rest of the day. Swing position should be exited somewhere near the top of the channel.
Nifty Future and Option Setups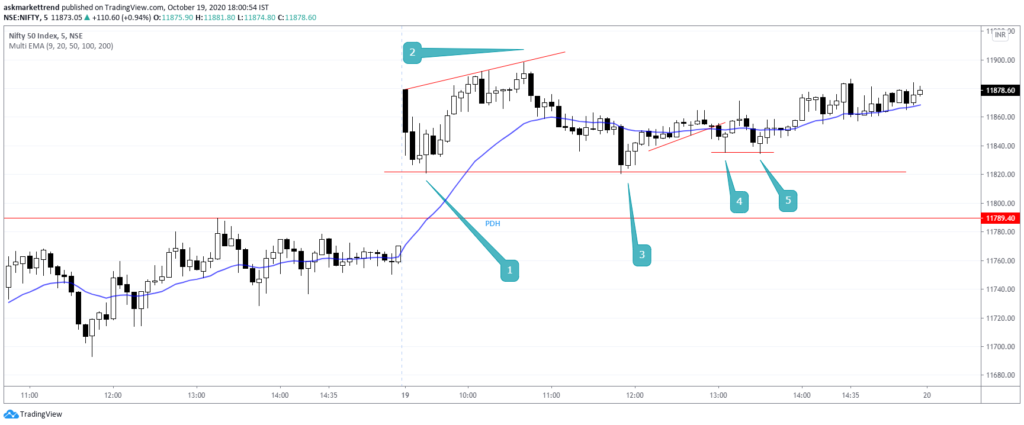 The market opened gap up. Attempt to fill the gap failed with this strong bull reversal candle. Swing Long.
Three Push up. Wedge reversal at the high of the day. Exit from swing position. Scalp and swing short for at least the low of the day.
Bull inside candle. Second attempt to fill the EMA gap. Test of day low. Both swing and scalp long.
EMA gap candle. Trend line failed breakout and test of EMA. Long scalp.
Double bottom bull flag and EMA gap candle. Long Scalp. At this point, the market is moving tightly around EMA with lots of dojis. The day has turned into a quite range day at this point. More trade should be avoided unless there is a breakout pull back from the day high or low.