Here are Bank Nifty and Nifty future and option setups occurred on 20 October 2020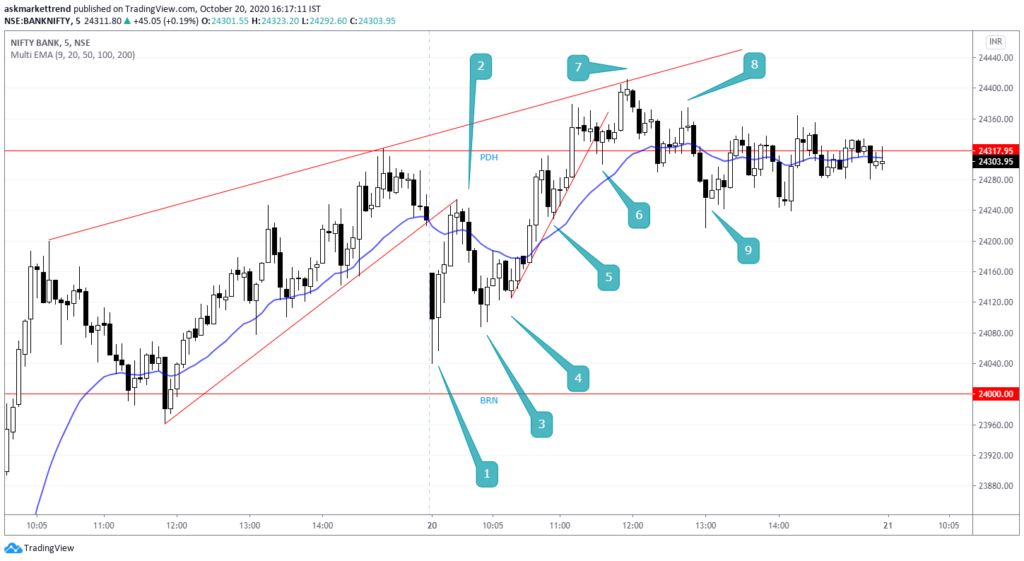 Strong bullish candle. Closed near high and completely reversed the first candle of the day. This is a failed breakout of yesterdays trendline. The market has opened with a gap down and this is an attempt to fill the gap. Good Long trade. This is also 1st trade of the day. This might become the low of the day. Because most of the time low or high of the day is made in the first hour of the day. Also, take a portion of your contract as swing trading.
The market faced resistance at yesterday's trend line and EMA. You should exit your scalp position near EMA. This is also breakout pullback short from yesterday's trend line. But the bear reversal candle is largely overlapped and at the EMA. This might be a trading range. So should be avoided.
Bull inside Candle.EMA gap candle and higher low. Second entry long of the day. Good entry for a long scalp.
This is the setup for a third long entry. This is a failed breakout of a small trend line and a marubozu bear candle. As it is always good to take failed trades. Because there are trapped traders who forced to exit at a loss and fuel the move.
Strong bull reversal candle. First pullback after a strong move Long.
Strong bullish candle. A two-legged pullback to EMA and a test of previous day high Long.
Small doji at trend channel line. Though it is a bull candle it is a low risk short. The market has already made a 4 legged up move from candle 3. At least a test of EMA is expected. As this is the high of the day and a test of trend line it would be better to exit from swing position also.
Failed breakout of a trend line and lower high and there is a gap between EMA to fill. Scalp short.
The two-legged down move is completed here. But there is no good signal to enter a long position. Back to back Doji candles are forming. The market looks like a range-bound. This candle should be avoided. There is no good setup in Bank Nifty for the rest of the day.
Nifty Trade Setups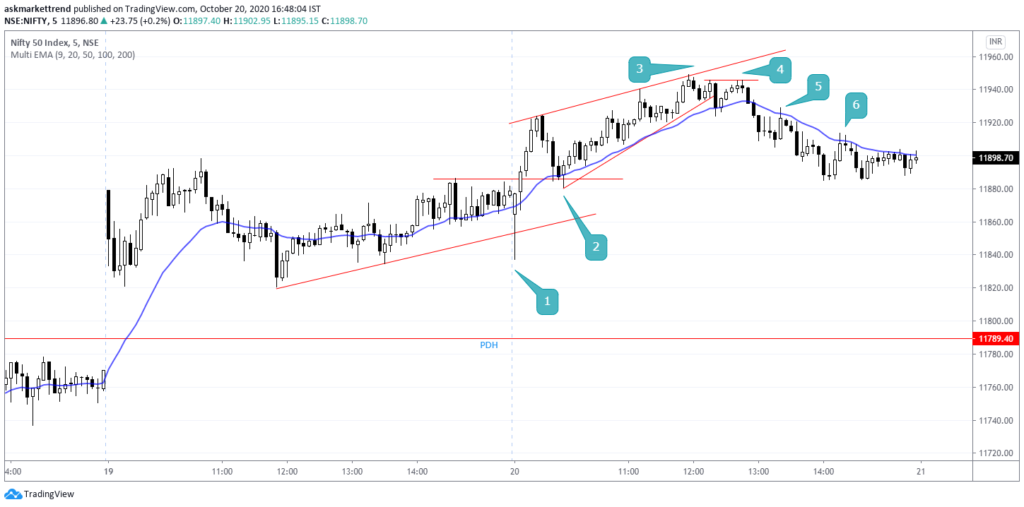 1st candle of the day is a strong bullish candle and a failed breakout of yesterdays bear trend line. Always remember failed trades are good tread. Because there are early bears trapped those who did not wait for the candle to close. That drove the market to a new high.
Strong bull candle. A pullback to EMA after a strong move and test of the high of yesterdays range.
Small bear candle and wedge top. Low-risk reversal after three up legs.
This is also a short entry. It is a double top pullback after a bear move from the possible top of the day.
The pullback to EMA after a bear move. Small inside candle. Low risk short.
This is also a pullback to EMA and a small candle. Low risk short.