Here are Bank Nifty and Nifty future and option setups occurred on 21 October 2020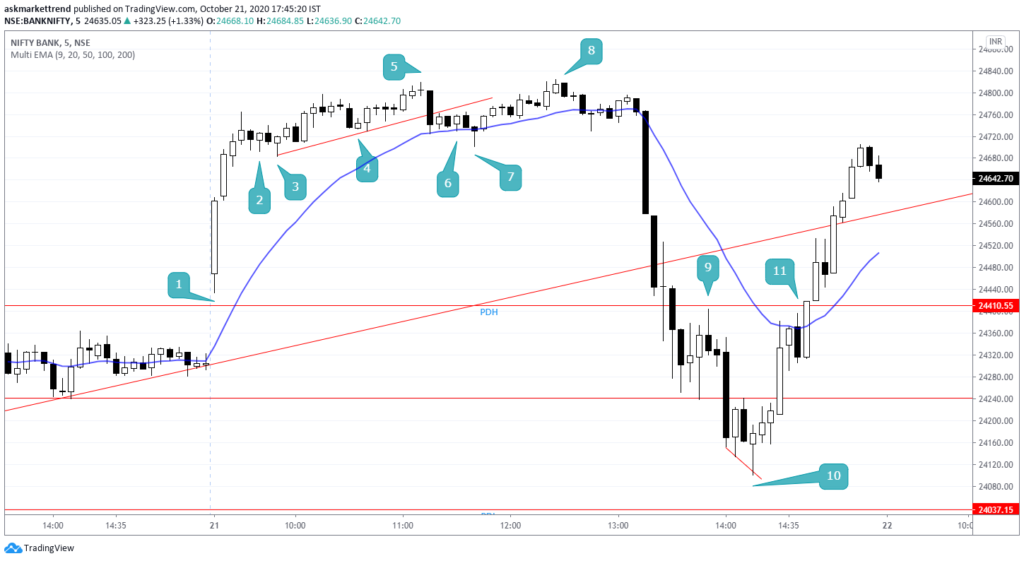 It is a strong bull candle, no tail on top after a gap up. Gap up trades are momentum trades. You could long here for a scalp and swing also.
It is the first pullback in a strong trend. But the market is in a loss of momentum now. Without trapped traders, the market can not move. Those late bulls bought at candle 2 hit their stop loss.
This is the second pullback in a strong trend and this candle took stop loss of weak bulls. Good for the scalp.
Candle 4 is a small bullish candle and second pullback in a strong trend. The market has already entered into a range after a big move. The market may move sometime in this range. Good scalp trade.
This is a three push up. Reversal setup. Traders should exit the swing position. This could be only a scalp trade because there has not been a trend line break.
This candle is a two-legged pullback and first touch to EMA after more than two hours. But overlapped by last 3 candles. This could be a range and should be avoided.
The candle is a pin candle. Though the body is bearish it could be a long scalp setup because this is a trap set up for early bulls who bought candle 6.
Candle 7 profit target filled at this swing low. There has been a clear trend line break and this is the test of high. Short setup for at least for two legs.
First pull back short in a strong bear move.
Strong bullish hammer candle. Also a small wedge reversal.
Short setup at the touch of EMA in a strong move. But two legs has not completed from the reversal setup from day low. This trade also not triggered. There has been no short triggered since this candle. If a swing trade had been taken from the reversal from the day low it would have ended in a big profit.
Nifty Trading Setup Review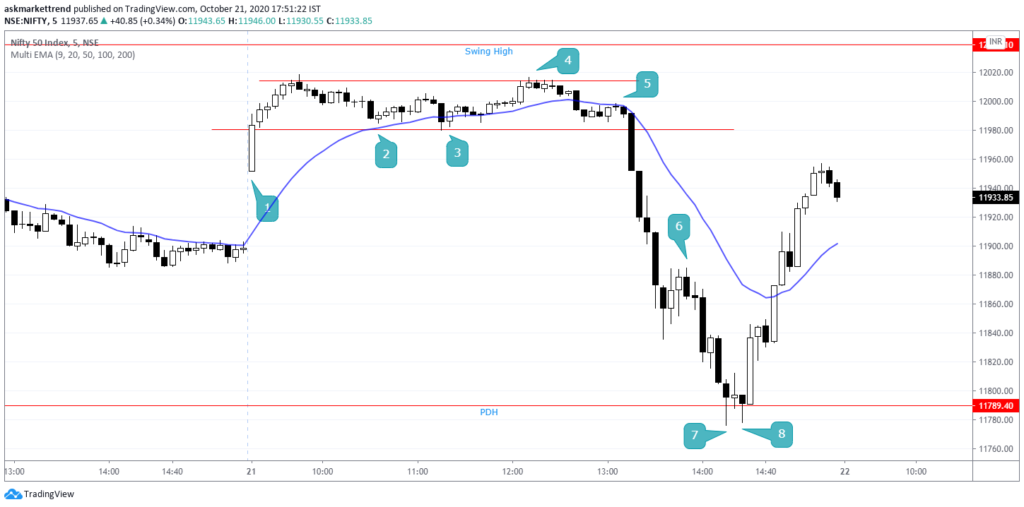 Gap up and strong bullish candle. This may be the low of the day. Long for scalp and swing.
Second pullback after a strong move. Long scalp.
This is also a second pullback. Two bigger pullbacks to EMA. Long.
Two legs completed and profit target achieved for the third setup. Doube top at day high. Short for scalp and swing. Also, reverse swing position here.
It is a small doji and two-legged pullback to EMA. Tight trading range below EMA. Good chance that it breaks downward. Which happened here.
A first pullback in a down move Short.
Hammer reversal candle after completion of two legs Long.
Second entry and a trap set up for a long position. This is also a swing trade at day low.