Here is Bank Nifty and Nifty future and option setups review on 23 October 2020
Bank Nifty Setup Review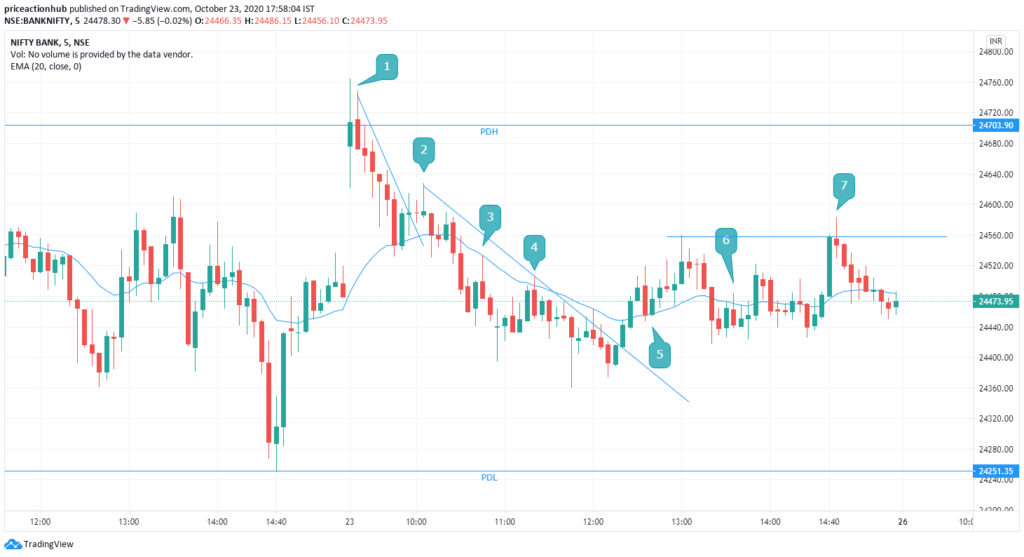 Today Bank Nifty opened gap up. The first candle of the day is a Doji candle, tail on both sides. Which indicates range behaviour. The second candle is our first set up to go short. The market tried to break day high but failed. The first setup has a good bear candle with no tail at the bottom. Which signifies urgency. Good short for scalp and swing, because this candle is forming at the high of the day.
2nd setup is a pin bar candle which is a failed breakout in a downtrend to go short. This is also a failed breakout of a two-bar tight range. Failure of a possible triangle pattern in a smaller time frame. Also, there is a gap between the candle low and EMA to fill.
3rd setup is a pullback to EMA after a 3 bar sharp bear move below EMA. Short scalp.
4th setup is a two-legged pullback to EMA in a bear move. Short scalp.
The market has already broken the bear trend line and EMA. This is the first pullback after a 4 bar bullish move. Good scalp long.
This is a bear candle and a pullback to EMA after a bear move which is failed. Because the setup is overlapped by last several bars and the bear move down the EMA is not strong. At this point, traders should stay cautious because the market is moving around EMA. The market is entering into a tight range. False breakouts and traps are hallmarks of a range.
It is a Doji candle with a bear body in a range market at a swing high. This is also a double top bear flag. Short scalp.
Nifty Price Action Setups Review
Lets discuss about the Nifty Chart.
Nifty also opened gap up at day high. This candle is a trap candle to trap early bulls out. Good short for swing and scalp.
This setup is a pin bar candle. A tiny failed breakout from a trend line short in a downward market.
3rd setup is an inside bull candle. This is a wedge bottom setup. There is a gap between the candle high and EMA and this candle is not overlapped. Good Long scalp setup in a ranging day.
4th Setup is a wedge to reversal and test of PDH and lower high test of today's high. Pin bar candle. Good for a short scalp.
5th setup is a strong bearish reversal candle and third test of a bear trend line and a lower high. There is a gap between candle low and EMA and the candle is not overlapped. In a ranging market like this traders should stay cautions where setups are overlapped and near EMA. Overlapped setups are traps to hunt stop loss.