Bank Nifty and Nifty price action Strategy review 26 October
Let's discuss bank nifty price action setups occurred today.
The first candle of the day is a big bearish candle. Yesterday was a trading range day. So today there were two possibilities. If the price stays inside previous days range, again there would be a range day. If breaks day high or day low the day might become a trend day. Most of the time a trend day comes after a range day and a range day comes after a trend day. Our first setup is a bear reversal candle with tail on top. This is a double bottom pullback and EMA gap short in a range. The first setup to go short. Scalp and swing because there is a possibility to break yesterdays range. If not exit at day low. So, the obvious target is the day's low.
Our second setup is a tiny Doji candle with a bear body. I usually avoid Doji candles near EMA. But this one has a good context. First, we were expecting at this point, that market may test day low after a big bear candle and then pull back. The second logic is this is a failed two-legged pullback to EMA and a small trend line failed breakout. So the setup is based on two failed signal. I always say, failed signals are great trades. Because these are traps. And trapped traders fuel the market move.
Don't trade what you think. Always trade what you see.
3rd signal of the day is a tiny bear candle. The first pullback in a bear move. This candle has taken its previous candles high. So, there are trapped who bought at day low expecting a range market. But there was not enough reason to buy there. So, the odds favour that, the market might break day low. This is also a 3 bar consolidation just above the support before the breakout. And then you can see the big down move.
Our fourth setup is a bear pin bar. The logic behind this setup is it is a two-legged pull back. Another consolidation before EMA. This bar has also taken the high of the prior bull bar. So, there are trapped traders. At this point, it is evident, that there is more pent-up energy to drive the market further down.
Our 5th setup is a bull pin bar or a hammer candle, whatever you call it because the name is not important. This candle formed after a trend channel line failed breakout. Bank Nifty has just broken a psychological level, that is 24000 level. The market might try to go near 24000 again to see if there are more sellers. So This is a good long entry to scalp. If you have a swing short position you can exit here.
6th setup is a bearish pin bar candle and the first touch of EMA after two or more hours. Good entry to go short for a test of day low.
7th setup is an inside bar and double bottom long scalp.
Today Bank Nifty gave good entry setups. Now let's go through setups happened Nifty.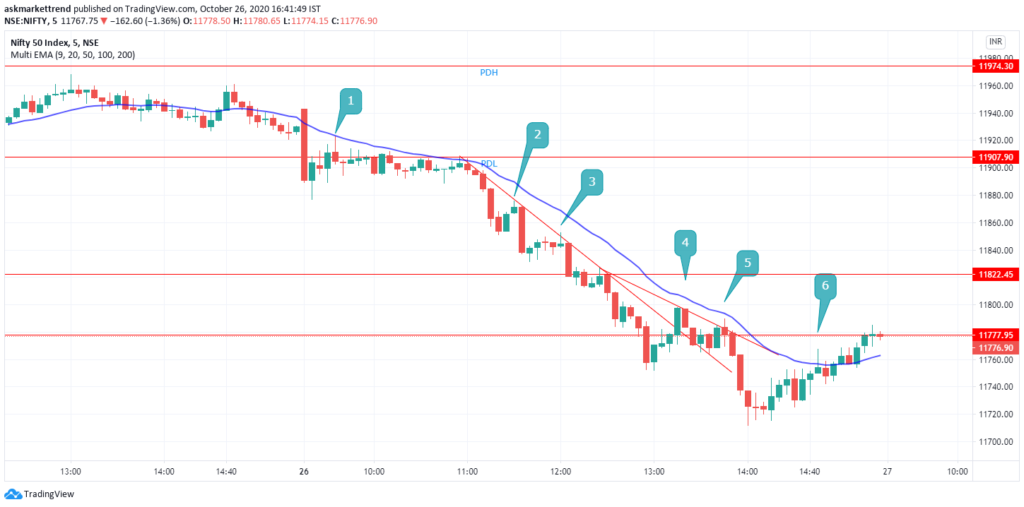 Nifty was also in a tight range yesterday. Even tighter than Bank Nifty. Here, also there was a possibility of a further range if the market stays inside previous days range or a good move if breaks out. The first candle of the day broke the previous day low. But we can not short here. Because this is a big candle and our risk will be very high. Our first setup came after 4 candles. This is a two-legged pullback to EMA. Bearish pin bar candle. Good short for both swing and scalp.
The second setup was a pullback in a strong trend. Tiny bar, so the risk is low. Though the body is bull bearish strength is evident in the upper tail.
Always practice and try to see setups on chart after market close. Eventually you will start to see them in live market.
3rd setup is a two-legged pullback and test of a bear trend line. At this point, the market is in a clear bear trend. So, this setup is worth taking and the risk is minimum.
4th setup is a strong piercing reversal candle with marubozu body and a failed breakout of a trend line. So, trapped traders are there to drive the market further down. Remember, as long as there is no clear reversal signal, always hold your swing position. And let the market go wherever it wants.
5th setup is a two-legged pullback to EMA and a failed trend line break short.
6th setup is a pin bar candle and first touch to EMA. This setup hit the stop loss.
If you want to become a successful trader practice on the chart everyday and try to find setups. Eventually, you will start to see good entry setups in live market. If you start to understand the market most of your setups will work and you will make consistent money.
If you want these explanations in hindi please go through the video below.
If you have any question, comment below. I will try to reply.