Let us discuss what bank nifty can do tomorrow, what is possible bank nifty target for tomorrow (23 July 2021)
What happened today in Bank Nifty?
As per our yesterday's analysis Bank Nifty crossed 34580 level and achieved the target of 34850. Again it made bearish price action at 34850 level and touched 34580 support. Both our levels worked well and gave two trades with a decent profit.
Today Bank nifty has closed near 34700 and made a high at the level of 35000. For tomorrow 35000 level will act as a major resistance. It is also a big round number.
What is Bank Nifty Target for Tomorrow and how to trade?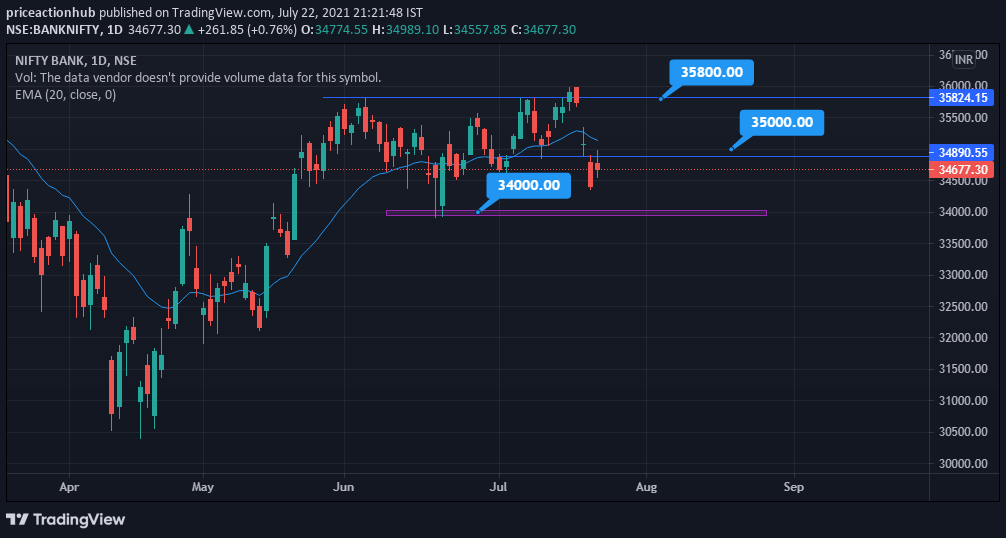 As long as the market is below 35000 level sentiment will be bearish. Today also the market has made a bearish candle with a big tail on top. So, the probability is high that we should see bearish movement in tomorrow trading session.
If tomorrow Bank Nifty crosses today's low there is a very good chance that it would achieve a target of 34000.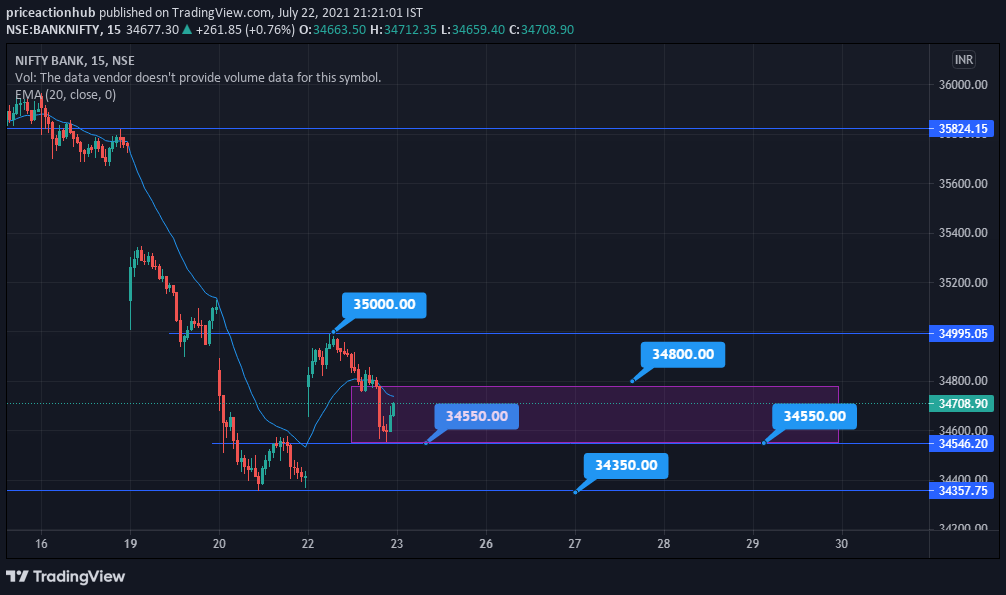 For Intraday if the market opens between 34800 and 34550 we can take trade in both directions. If it crosses 34800 we can go long and if it crosses 34550 we can short. For long our target will be 35000. For short our target will be 34350 and 34000.
If bank nifty opens gap up and made a tiny range at 35000 level or make a bearish candle like bearish engulfing or shooting star, we can short. Our stop loss would be the high of the bearish candle or high of the range, whatever happens.
There is another possible scenario. If the market opens gap down at 34350 and makes a range we can go short if it breaks downside for a target of 34000. Our stop loss would be the high of the range. There is not much room for upside.
P.S. This view is for educational purposes only. Trade at your own risk.